I still remember that morning, watching MTV News, bawling as my Nan come home from her morning walk asking me "whose died?" I cried like I knew Aaliyah, damn her death was such a shock. Having been a fan of hers from the 90s, it seemed so unfair for the world to lose such a beautiful woman, inside and out.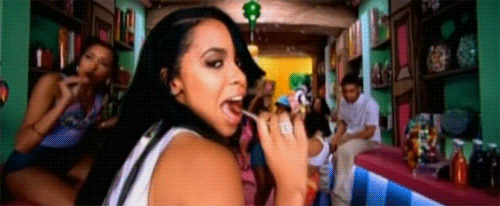 MAC Cosmetics, is known to do collaborations with celebrities and I believe their first one with an estate was with Selena. For years' petitions were circulating to bring a collection alive with MAC & Aaliyah, (I signed) she definitely loved make-up, was beginning to experiment more with colours but her make-up never covered up her beauty, it was effortless & mesmerising.
Her brother Rashad, who Aaliyah was exceptionally close with, also worked hard and tirelessly with this collection, even bringing her makeup bag to the offices to get shades right (how I'd love to see that bag) I do know Aaliyah use to wear MAC and the brands Paramount, Chelsea, and Cherish lipsticks, as well as MAC's chestnut lip liner. Aaliyah gave us that 90s look, style & beat. And I've been waiting and finally got the collection.
You've no doubt been killed with it online but oh well! The collection is made up of 4 lipsticks, 4 lipglosses, 2 lip glasses, bronzer and an eyeshadow palette.
Lipstick
Hot Like… - Creamy fire red
More Than a Woman – Cool deep red
Street Thing – Pure black with shimmer
Try Again – Soft muted beige

Lipglass
Li Li's Motor City – Coral with shimmer
1 in a Million – Deep rich purple
At Your Best You Are… - Warm Berry
Brooklyn Born – Sheer nude with pearl
Eyeshadow x 9 - Age Ain't Nothing
Lovesmoke – bright silver / metallic finish
Magic Moor – purplish brown /pearly sheen
Care 4 You – medium plum / lustre finish
Creative Copper – light medium gold / metallic finish
That Somebody – soft brown with warm, golden undertones, mostly matte finish
Princess of Soul – muted, medium-dark dirty brown with olive undertones and a matte finish
Deception – medium, bronzy taupe with a glittering finish
Gingersnap – rosy copper and a metallic finish
Dance in the Dark - deep, purplish brown and a matte finish

Bad blogger moment, things haven't been swatched because - well I couldn't bare to swatch anything yet lol! Talk about obsessed. I'm actually loving the collection my only thing was okay two things were, in the US the collectors box was amazing, a beautiful presentation box, poster etc and they also got the two lip liners? Why were these excluded for those in the UK? Did they feel the fan base wasn't as big (considering the box still sold out) besides that, I think the collection is beautiful, it's wearable. The reds, nudes, dark shades for the lipsticks. Very Aaliyah! I prefer glosses in the summer, just gives an effortless appearance as I don't do much makeup in these warmer months. Even these glosses do well over lipstick for a nice shine and change up of colour. I like to use more of a deeper bronzer and I feel this one will just give a natural warmth, maybe we've become to accustomed to that dark, deep contour appearance most like from our bronzers. The shadow palette, once again feature very wearable colours that is good for day and night, easy to switch up.
Did you check out the collection?